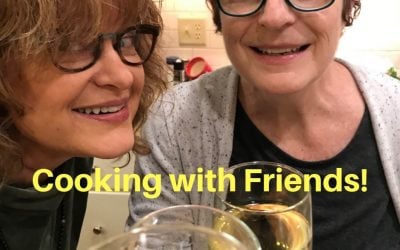 Last night, Tami and Laura came to my house with armloads of groceries and gifts. Tami brought the ingredients to make Chicken with Caramelized Onion and Cardamom Rice. Laura brought everything for one of her signature salads, and all I had to do was stock up on...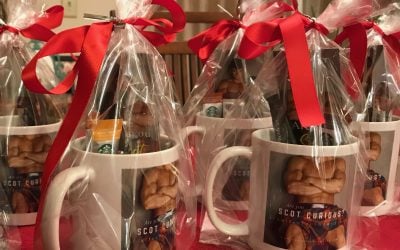 A friend invited me to her book club. I was so incredibly flattered. The members all purchased and read BETTING THE SCOT. We sipped warm cider and talked about romance, and publishing, and Scotland, and "how the heck did I go from producing theater to writing novels?"...
Tunes Inspired by Tying the Scott

Now Available!
Magnus was used to getting what he wanted… until he met her.
Virginia Whitebridge is trapped in a loveless, abusive marriage. The law says her husband can have whatever he wants from her—so he's taken her inheritance. And he tried to kill her. After a close escape, Virginia feels protected for the first time in forever, thanks to the Scottish Highlands and the Highlander Magnus Sinclair. But she must go back to England, regardless of the danger, to reclaim what's hers. Even if it means leaving her heart in Scotland.
It's just Magnus's luck that he's fallen for a woman he can't have. Virginia is rich and titled… and English. To keep her safe, he must follow her to the one place he loathes—England. Where the bowing, preening London Society has a secret language of manners unknown to him. Where he is too large, too uncivilized, too everything.
Despite omens that death awaits him there, Magnus vows to help Virginia go to London and restore her fortune. Get in. Get out. Or die trying.
Forgetting the Scot, on sale at the finest book retailers everywhere!
Now Available!
"He's wagered and won her hand, but can he win her heart?"
Declan Sinclair is a Highlander who believes his dreams never lie. When he spots Caya at a public house, he knows instantly she is the woman in his dreams—his future wife. Though her brother had promised never to gamble again, he engages Declan in a card game—and the prize is the lovely Caya.
Caya Pendarvis has no time for childish things like dreams or fairy tales or love. She's the sacrificial lamb on her way to the far north of Scotland to wed a wealthy merchant in exchange for settling her brother's gambling debts.
Winning at cards is one of the many things Declan Sinclair does well. Unfortunately, the ability to court a woman—a talent he lacks—is the only skill he desperately needs to win Caya's heart.
Betting the Scot, on sale at the finest book retailers everywhere!
Now Available!
"A hotheaded Highlander and a fiery English Lady–what could go wrong?"
At age eleven, Alex Sinclair pledges an oath to the Duke of Chatham promising to serve and protect his illegitimate daughter, Lucy FitzHarris. Nine years later, the duke unexpectedly takes Alex up on his vow, offering the future Laird of Balforss his daughter's hand in marriage. [Read More]
Jennifer Trethewey's debut title "Tying the Scot" is now available for order. Purchase your copy today!