The folks at Entangled Publishing have come up with a great cover for my second Highlanders of Balforss novel, BETTING THE SCOT. Introducing Declan in all his kilted glory.
Declan Sinclair is a Highlander who believes his dreams never lie. When he spots Caya at a public house, he knows instantly she is the woman in his dreams—his future wife. Though her brother had promised never to gamble again, he engages Declan in a card game—and the prize is the lovely Caya.
Caya Pendarvis has no time for childish things like dreams or fairy tales or love. She's the sacrificial lamb on her way to the far north of Scotland to wed a wealthy merchant in exchange for settling her brother's gambling debts.
Winning at cards is one of the many things Declan Sinclair does well. Unfortunately, the ability to court a woman—a talent he lacks—is the only skill he desperately needs to win Caya's heart.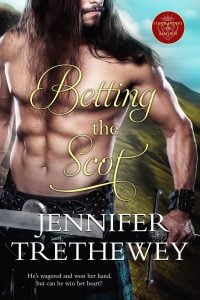 Betting the Scot will be available for pre-order in early April and will release on April 23rd. Please sign up for my newsletter for preview snippets, give-aways, and more information.