A lot has happened since we got off the train and, despite a few glitches and poor decisions, we are having a fantastic time. The first night, we had dinner with with Patrick and Ruth Short of Portland ComedySportz. So much fun to have them all to ourselves. 
The next day, we drove from Portland to Seattle. On the way, we stopped to see Dick's cousin, Hilary.
She lives with dogs, cats, and horses (two of each). Fantastic time roaming around her ten acre farm. Plus she did our laundry. Thanks, Hil. Side note: Hilary, I have a pair of your underwear. I'll send them to you for Hanukkah. 
Downtown Seattle can be pricey, so when I found a ridiculously affordable two bedroom, two bath condo on Expedia, I snatched it up. My first mistake was using Expedia. Second mistake was buying the insurance. Third mistake was renting the affordable condo. It's glorious. We love it. This is our view.
But the guy who rents it out isn't supposed to. It's against the condo rules. Only after we rented the thing did we find out we had to sneak in and out of the building, never talk to anyone, and under no circumstances ask the doorman for assistance. We were busted the moment we entered. We felt like criminals. Fortunately, the doorman was really nice (his name is Jet) and did not throw us out. But the guy who rents the condo is gonna get evicted.
Meanwhile, we had a great time in Seattle even though they got 1 inch of snow and everyone freaked out. The whole city shut down. Apparently, they have never seen snow before. We saw the Seattle CSz guys, Bogan and Alex. Yay!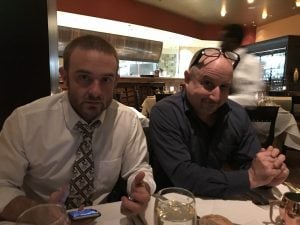 They have such a cool venue for their shows and workshops. 
We went to see Richard Thompson live in concert, too. A-MA-ZING.  
Strolled around the Public Market…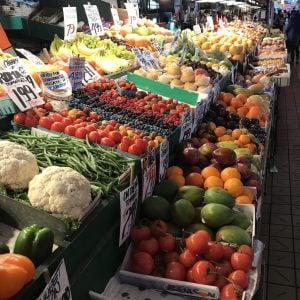 Did you know they have brass pigs and donuts the size of your head there?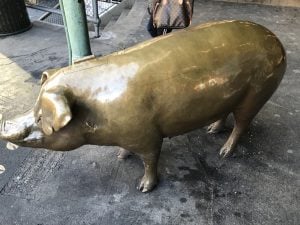 And had dinner at Ruth's Chris.
Seattle is awesome!