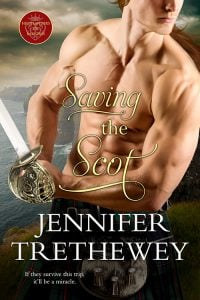 So glad to see that SAVING THE SCOT, book 4 of my Highlanders of Balforss series, is available for pre-order on Amazon, B&N, Kobo, and iTunes Books. As usual, the print and audio versions will be available soon after the official release date: March 25, 2019. You can check out some very nice reviews I received on Goodreads by clicking HERE
Meanwhile, check out the book blurb:
SAVING THE SCOT by Jennifer Trethewey
If they survive this trip, it'll be a miracle.
Louisa Robertson's father is furious when he finds her acting on stage. Now, she's being shipped off to America to marry some stranger her father thinks will bring out the "lady" in her. Luckily, Louisa's maid agrees to switch places with her! Her maid will marry the American and get the wealthy lifestyle she's always wanted, and Louisa can do whatever she damn well pleases––for the first time in her life.
Highlander Ian Sinclair needs an army commission, and the only way he can get one is to safely deliver the general's Daughter-from-Hell to her intended in America. Easy, right? It would be if the lady's companion Louisa didn't wear breeches and do everything the exact opposite of what he orders. It'll be a miracle if the sparks flying between Ian and Louisa don't set the bloody ship afire before they arrive in America.
But just when Louisa thinks her plan is going to give her the acting career she wants and a Highlander to boot…Ian discovers her secret.