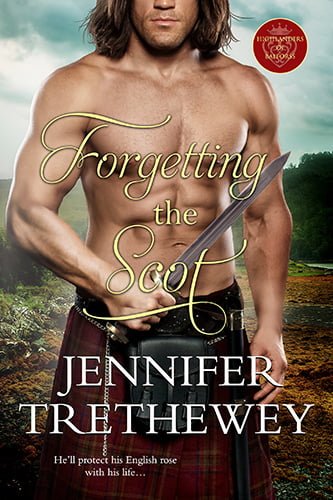 Title: Forgetting the Scot
Author: Jennifer Trethewey
Pub Date: October 22, 2018
ISBN: 9781640636750
Imprint: Amara
Price: $3.99
He'll protect his English rose with his life…
Magnus Sinclair rescued her from pirates and took the blow that could have killed her. One stolen kiss and Virginia Whitebridge fell in love with the big Scot. Unfortunately, she's married. Even though her so-called husband is behind her abduction, she's determined to return to London and confront the lying, scheming man and get what's hers.
It's just Magnus's luck to fall for a woman he can't have. Virginia is rich, titled, and married. That didn't stop him from kissing her. If he intends to keep her, he must go the one place he loathes. England. Where the bowing, preening London Society has a secret language of manners unknown to him. Where he is too large, too uncivilized, too everything.
Despite omens that death awaits him there, Magnus vows to return Virginia to London and restore her fortune. Get in. Get out. Bring her back to Scotland. Or die trying.
Also Available by Jennifer Trethewey
Taglines, Keywords, & Phrases: Highlanders of Balforss series, Highlanders, Highlander, Romance, Scotland, Scottish Romance, Scottish Historical Romance, Regency, Regency Era, Regency Romance, Unrequited Love, 19th Century Romance, Men in Kilts.