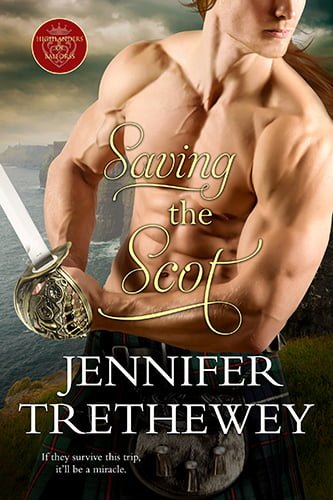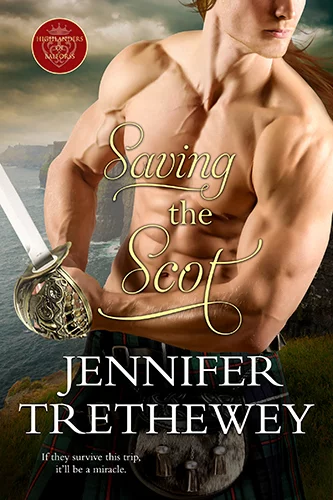 Title: Saving the Scot
Author: Jennifer Trethewey
Pub Date: March 25, 2019
ISBN: 9781640637764
Imprint: Amara
Price: $3.99
If they survive this trip, it'll be a miracle.
Louisa Robertson's father is furious when he finds her acting on stage. Now, she's being shipped off to America to marry some stranger her father thinks will bring out the "lady" in her. Luckily, Louisa's maid agrees to switch places with her! Her maid will marry the American and get the wealthy lifestyle she's always wanted, and Louisa can do whatever she damn well pleases––for the first time in her life.
Highlander Ian Sinclair needs an army commission, and the only way he can get one is to safely deliver the general's Daughter-from-Hell to her intended in America. Easy, right? It would be if the lady's companion Louisa didn't wear breeches and do everything the exact opposite of what he orders. It'll be a miracle if the sparks flying between Ian and Louisa don't set the bloody ship afire before they arrive in America.
But just when Louisa thinks her plan is going to give her the acting career she wants and a Highlander to boot…Ian discovers her secret.
Saving the Scot Promotional Video

Are you ready for a wild ride! Actually it's a wild sail. This trip will keep you in constant suspense of what happens next. Identity swap, intense flirtation, orders disobeyed, fake marriage, shocking secrets and lets not forget the Pirates. 
Louisa is going to show her father she can make it in show business. Ian is finally going to get his commission! Do they get what they want? What if they find out what they truly wanted they really had all along but it took this voyage to put things in perspective. 
This book is well plotted, and the characters are very detailed to the point of you can almost feel what the characters feel. I recommend this book to read if you're looking for a adventure. I personally love it. READ MORE
Also Available by Jennifer Trethewey
Highlanders of Balforss series, Trethewey, Sinclair, Highlanders, Highlander, Romance, Scotland, Scottish Romance, Scottish Historical Romance, Regency, Regency Era, Regency Romance, Mistaken Identity, 19thCentury Romance, Men in Kilts.